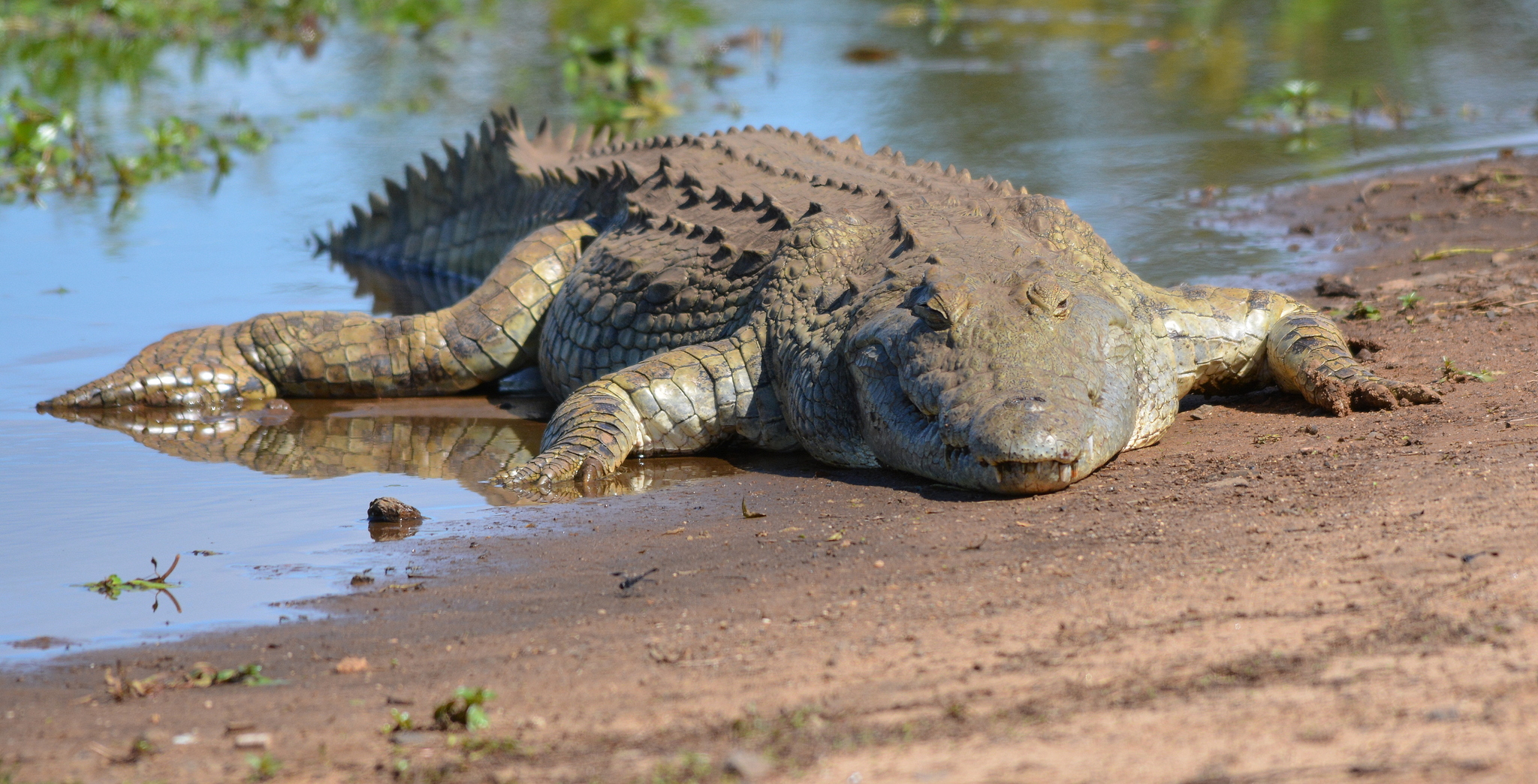 Photo credit : Copper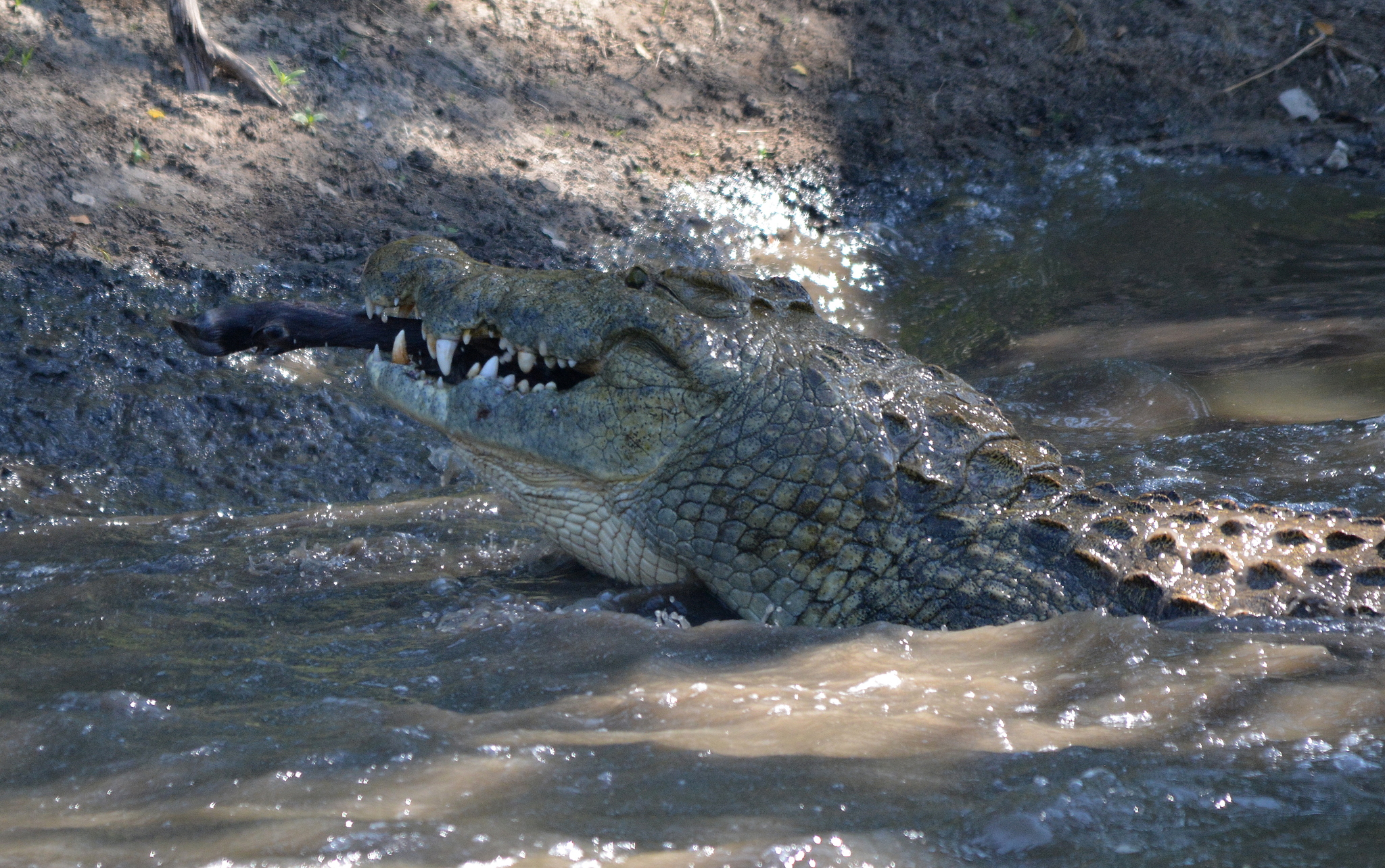 Photo Credit : Copper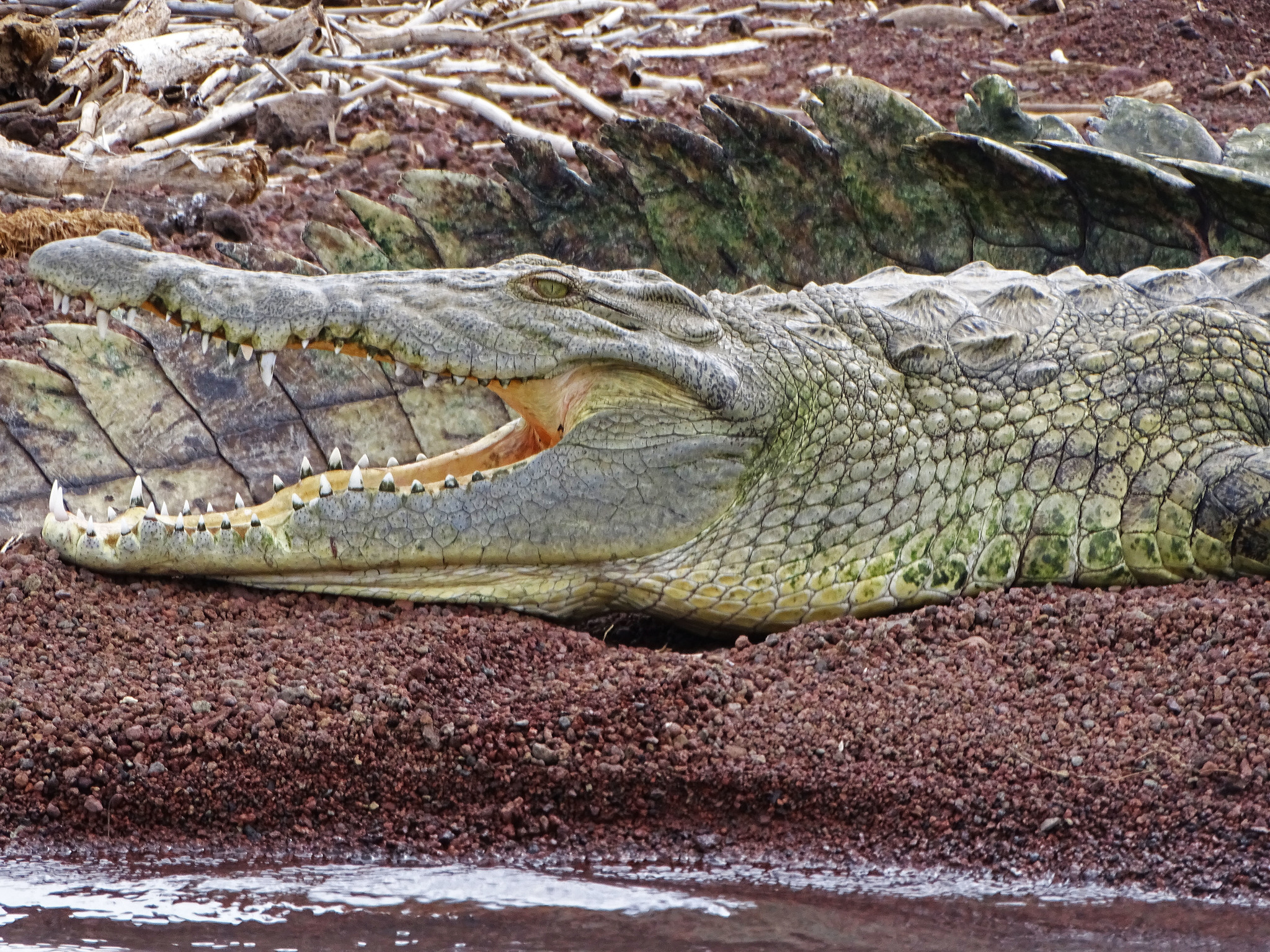 Photo Credit: James Steamer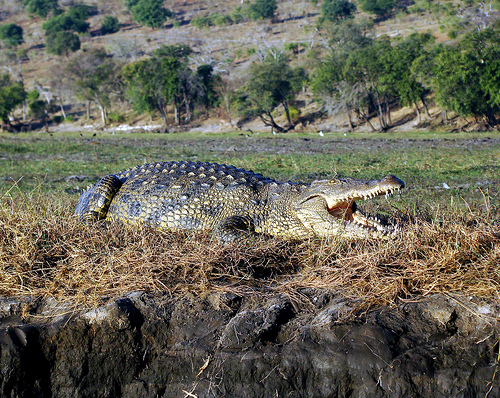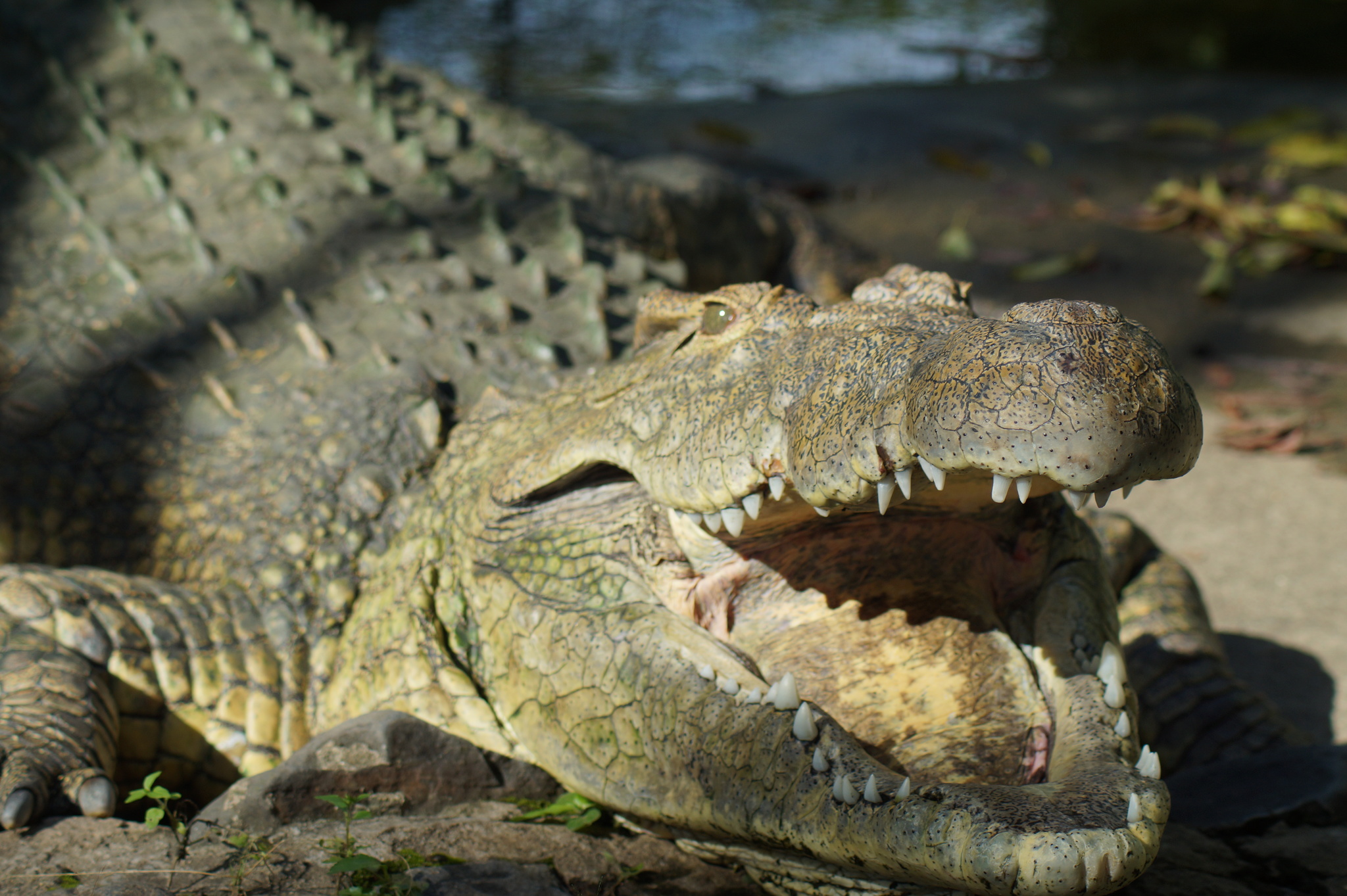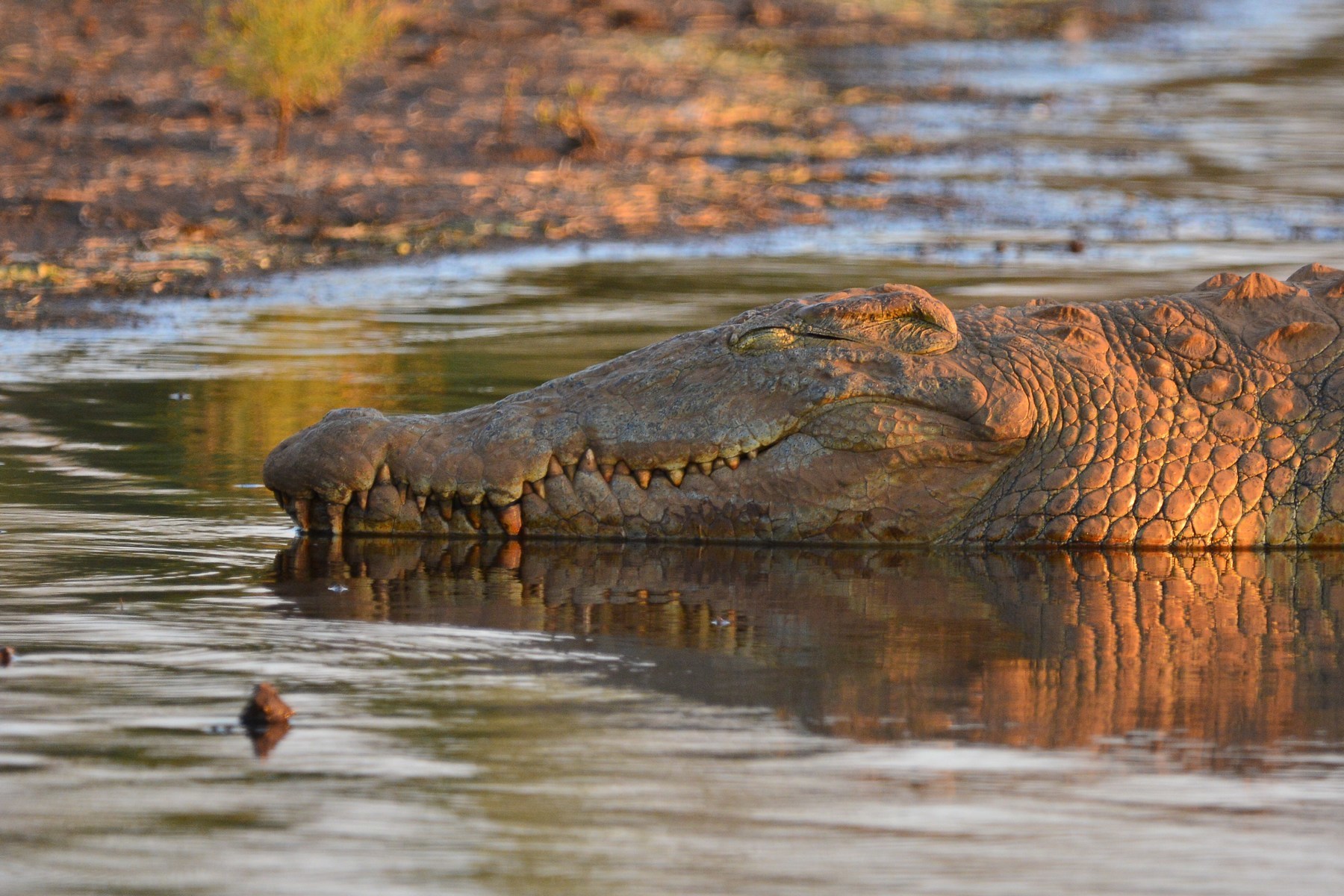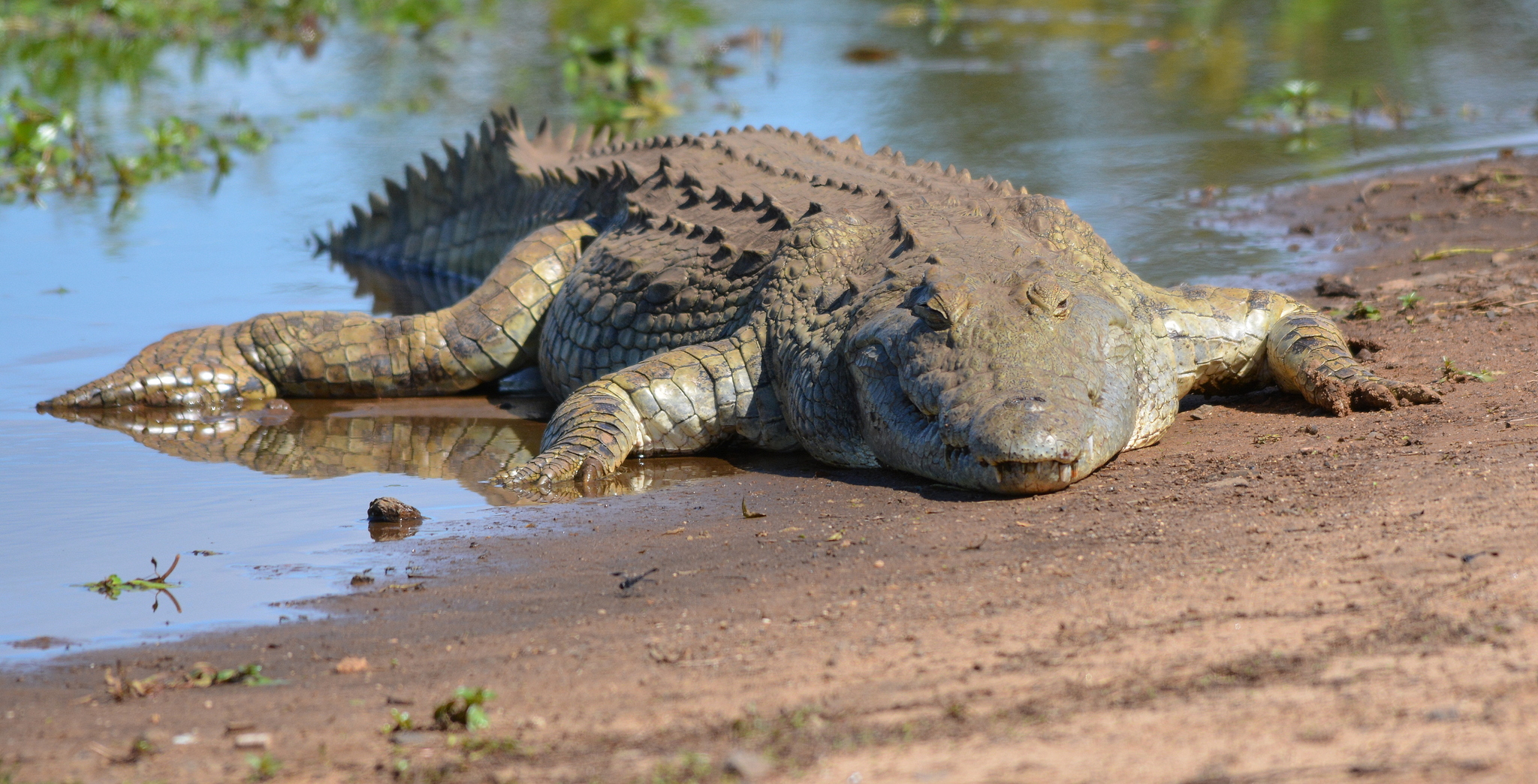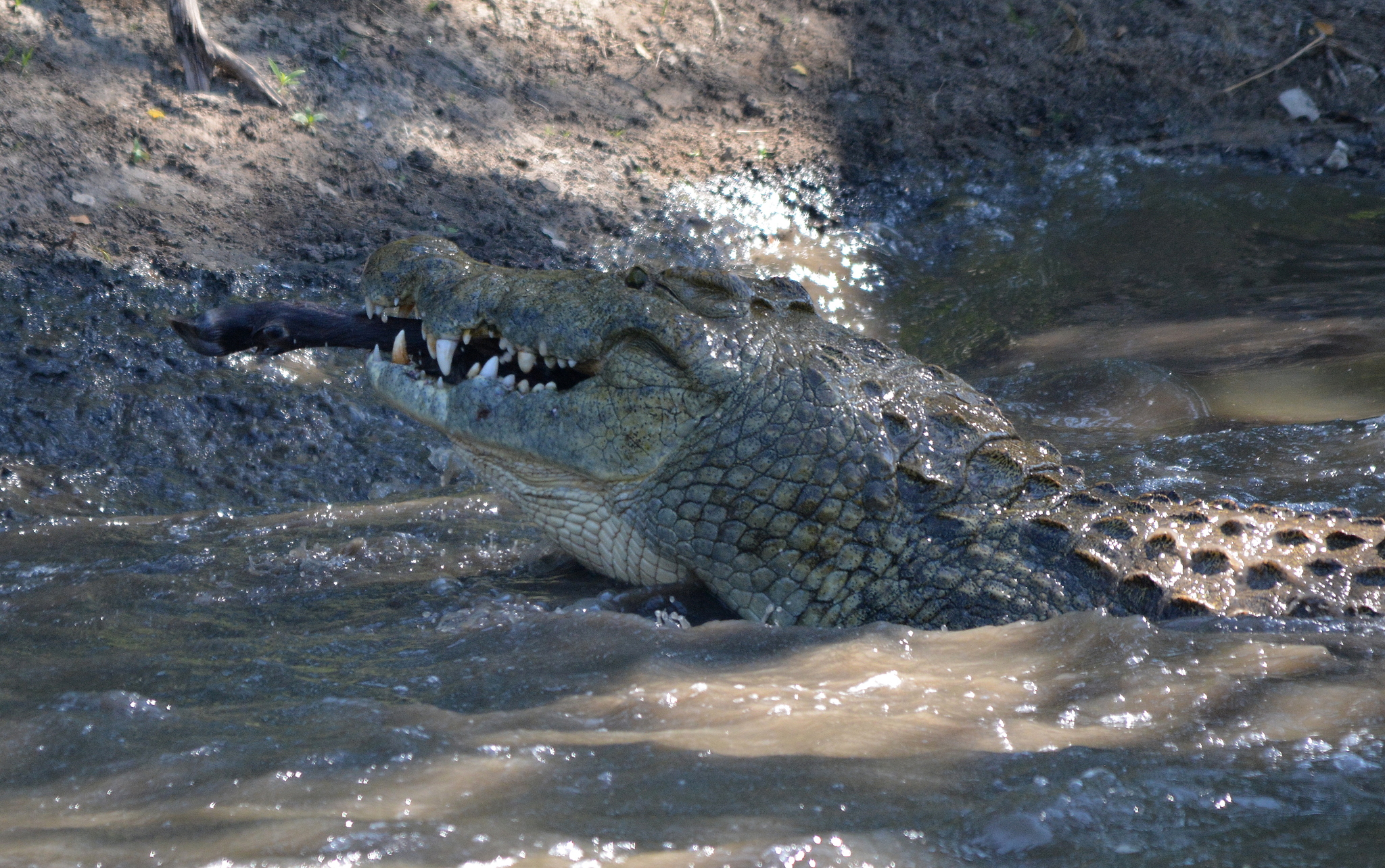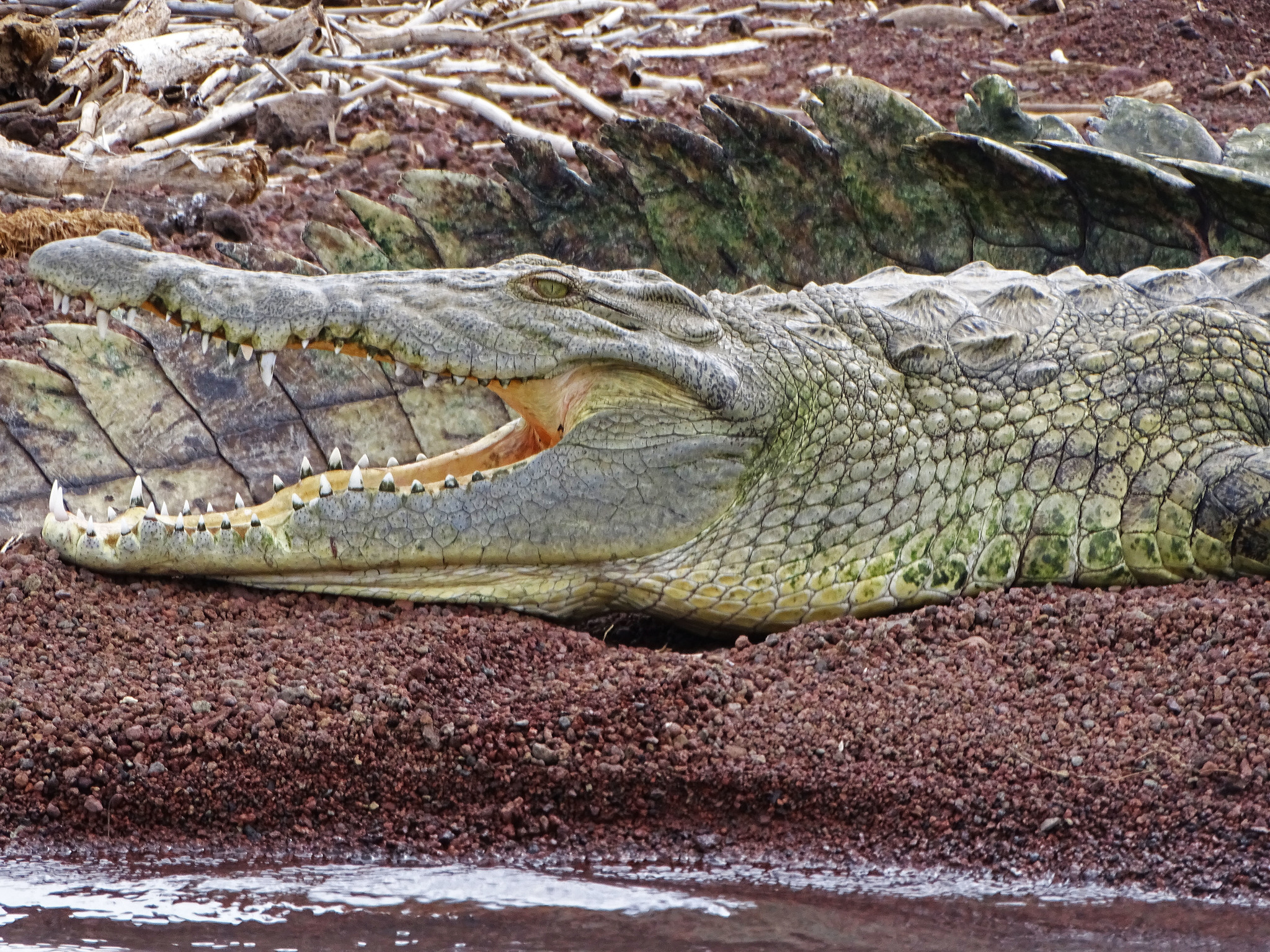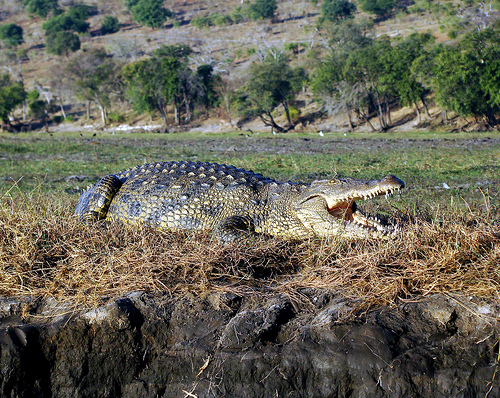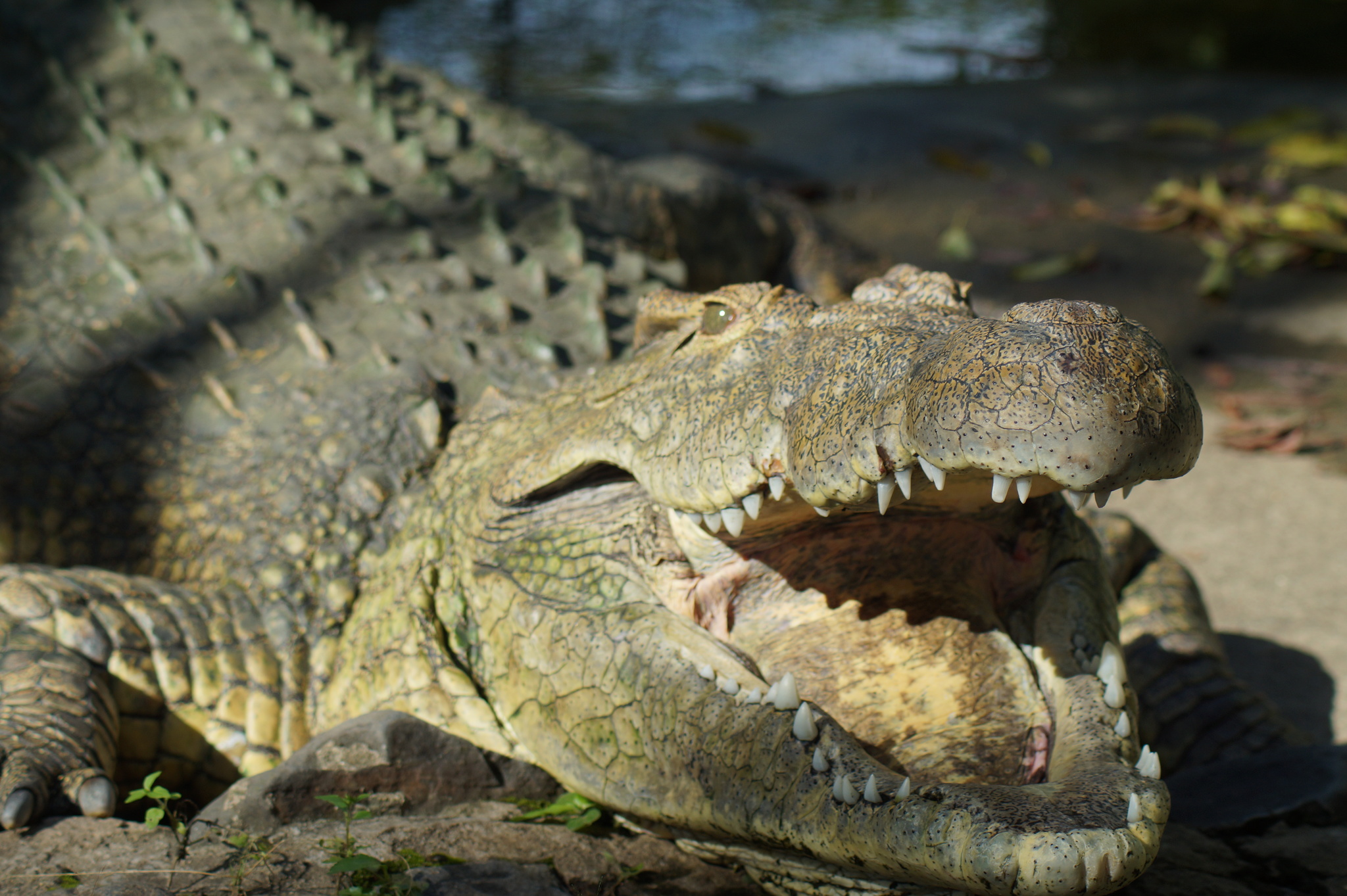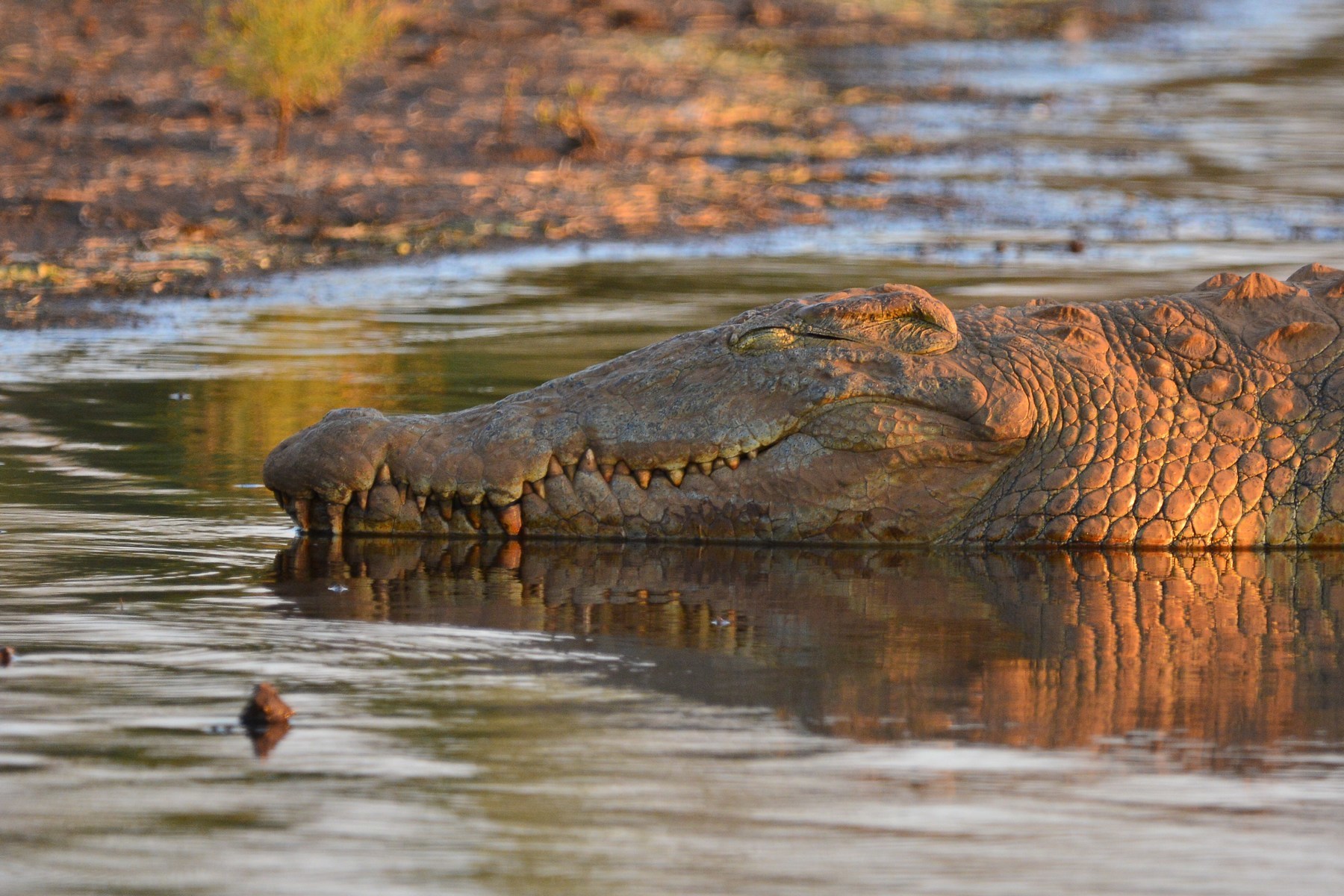 ---
Description
The Nile crocodile (Crocodylus niloticus) is an African crocodile, the largest freshwater predator in Africa, and may be considered the second-largest extant reptile and crocodilian in the world, after the saltwater crocodile (Crocodylus porosus).The Nile crocodile is quite widespread throughout sub-Saharan Africa, occurring mostly in the central, eastern, and southern regions of the continent, and lives in different types of aquatic environments such as lakes, rivers, and marshlands. Although capable of living in saline environments, this species is rarely found in saltwater, but occasionally inhabits deltas and brackish lakes. The range of this species once stretched northward throughout the Nile, as far north as the Nile delta.
On average, the adult male Nile crocodile is between 3.5 and 5 m (11.5 and 16.4 ft) in length and weighs 225 to 750 kg (500 to 1,650 lb). However, specimens exceeding 6.1 m (20 ft) in length and weighing up to 1,090 kg (2,400 lb) have been recorded.Sexual dimorphism is prevalent, and females are usually about 30% smaller than males.They have thick, scaly, heavily armored skin.
Nile crocodiles are opportunistic apex predators; a very aggressive species of crocodile, they are capable of taking almost any animal within their range. They are generalists, taking a variety of prey.Their diet consists mostly of different species of fish, reptiles, birds, and mammals. They are ambush predators that can wait for hours, days, and even weeks for the suitable moment to attack. They are agile predators and wait for the opportunity for a prey item to come well within attack range. Even swift prey are not immune to attack. Like other crocodiles, Nile crocodiles have an extremely powerful bite that is unique amongst all animals, and sharp, conical teeth that sink into flesh, allowing for a grip that is almost impossible to loosen. They can apply high levels of force for extended periods of time, a great advantage for holding down large prey underwater to drown.
Nile crocodiles are relatively social crocodiles.They share basking spots and large food sources, such as schools of fish and big carcasses. Their strict hierarchy is determined by size. Large, old males are at the top of this hierarchy and have primary access to food and the best basking spots. Crocodiles tend to respect this order; when it is infringed, the results are often violent and sometimes fatal. Like most other reptiles, Nile crocodiles lay eggs; these are guarded by the females. The hatchlings are also protected for a period of time, but hunt by themselves and are not fed by the parents. The Nile crocodile is one of the most dangerous species of crocodile and is responsible for hundreds of human deaths every year.It is a rather common species of crocodile and is not endangered despite some regional declines or extinctions.
Invasive Species
Nile crocodiles are an invasive species in North America, and several specimens have been recently captured in South Florida, though no signs that the population is reproducing in the wild have been found.Genetic studies of Nile crocodiles captured in the wild in Florida have revealed that the specimens are all closely related to each other, suggesting a single source of the introduction. This source remains unclear, as their genetics do not match samples collected from captives at various zoos and theme parks in Florida. When compared to Nile crocodiles from their native Africa, the Florida wild specimens are most closely related to South African Nile crocodiles. It is unknown how many Nile crocodiles are currently at large in Florida.[68][69] The animals likely were either brought there to be released, or are escapees.
---
Fun Facts
Behaviour
Typically, Nile crocodiles are relatively inert creatures, as are most crocodilians and other large, cold-blooded creatures. More than half of the crocodiles observed by Cott (1961), if not disturbed, spent the hours from 9:00 am to 4:00 pm continuously basking with their jaws open if conditions were sunny. If their jaws are bound together in the extreme midday heat, Nile crocodiles may easily die from overheating. Although they can remain practically motionless for hours on end, whether basking or sitting in shallows, Nile crocodiles are said to be constantly aware of their surroundings and aware of the presence of other animalsHowever, mouth-gaping (while essential to thermoregulation) may also serve as a threat display to other crocodiles, for example when specimens have been observed mouth-gaping at night when overheating is not a risk. In Lake Turkana, crocodiles rarely bask at all through the day, unlike crocodiles from most other areas, for unknown reasons, usually sitting motionless partially exposed at the surface in shallows with no apparent ill effect from the lack of basking on land.

Crocodiles are deft and agile swimmers when motivated.
In South Africa, Nile crocodiles are more easily observed in winter because of the extensive amount of time they spend basking at this time of year. More time is spent in water in overcast, rainy, or misty days. In the southern reaches of their range, as a response to dry, cool conditions that they cannot survive externally, crocodiles may dig and take refuge in tunnels and engage in aestivation. Pooley found in Royal Natal National Park that during aestivation, young crocodiles of 60 to 90 cm (24 to 35 in) total length would dig tunnels around 1.2 to 1.8 m (3 ft 11 in to 5 ft 11 in) in depth for most, some tunnels measuring more than 2.7 m (8 ft 10 in), the longest there being 3.65 m (12 ft 0 in). Crocodiles in aestivation are totally lethargic, entering a state similar to animals that hibernate. Only the largest individuals engaging in aestivation leave the burrow to sun on warmest days, otherwise these crocodiles rarely left their burrows. Aestivation has been recorded from May to August.
Nile crocodiles normally dive for only a few minutes at a time, but can swim under water up to 30 minutes if threatened, and if they remain fully inactive, they can hold their breath for up to 2 hours (which, as aforementioned, is due to the high levels of lactic acid in their blood).They have a rich vocal range, and good hearing. Nile crocodiles normally crawl along on their bellies, but they can also "high walk" with their trunks raised above the ground. Smaller specimens can gallop, and even larger individuals are capable on occasion of surprising bursts of speed, briefly reaching up to 14 km/h (8.7 mph). They can swim much faster by moving their bodies and tails in a sinuous fashion, and they can sustain this form of movement much longer than on land, with a maximum known swimming speed 30 to 35 km/h (19 to 22 mph), more than three times faster than any human.

Nile crocodiles have been widely known to have gastroliths in their stomachs, which are stones swallowed by animals for various purposes. Although this clearly is a deliberate behaviour for the species, the purpose is not definitively known. Gastroliths are not present in hatchlings, but increase quickly in presence within most crocodiles examined at 2–3.1 m (6 ft 7 in–10 ft 2 in) and yet normally become extremely rare again in very large specimens, meaning that some animals may eventually expel them.However, large specimens can have a large number of gastroliths. One crocodile measuring 3.84 m (12 ft 7 in) and weighing 239 kg (527 lb) had 5.1 kg (11 lb) of stones inside it, perhaps a record gastrolith weight for a crocodile.
Specimens shot near Mpondwe on the Semliki River had gastroliths in their stomach despite being shot miles away from any sources for stones, the same applies to the Kafue Flats, Upper Zambesi and Bangweulu Swamp, all of which often had stones inside them despite being nowhere near stony regions. Cott (1961) felt that gastroliths were most likely serving as ballast to provide stability and additional weight to sink in water, this bearing great probability over the theories that they assist in digestion and staving off hunger.However, Alderton (1998) stated that a study using radiology found that gastroliths were seen to internally aid the grinding of food during digestion for a small Nile crocodile.
Herodotus claimed that Nile crocodiles have a symbiotic relationship with certain birds, such as the Egyptian plover (Pluvianus aegyptius), which enter the crocodile's mouth and pick leeches feeding on the crocodile's blood, but no evidence of this interaction actually occurring in any crocodile species has been found, and it is most likely mythical or allegorical fiction. However, Guggisberg (1972) had seen examples of birds picking scraps of meat from the teeth of basking crocodiles (without entering the mouth) and prey from soil very near basking crocodiles, so felt it was not impossible that a bold, hungry bird may occasionally nearly enter a crocodile's mouth, but not likely as a habitual behaviour.
---
0

comments
Leave a comment